New York Fashion Week Spring/Summer 17 saw an increasing number of designers continue to disrupt the industry. One of the biggests shifts seen during this season of NYFW was the adaptation of the 'See Now, Buy Now' business models, which saw numerous designers including Tom Ford, Ralph Lauren and Tommy Hilfiger present collections which were then launched immediately in stores and online.
With more retailers and designers alike eschewing the traditional fashion week format in favour of satisfying consumers growing demand for instant gratification, this season also saw an increasing number of shows open their doors to consumers, eliminating the former elitist image surrounding NYFW. As the fashion event draws to a close on Thursday evening, FashionUnited takes a moment to reflect back upon some of the high points this season had to offer.
Tom Ford kicks off NYFW with 'See Now, Buy Now'
Fashion designer turnd film director, Tom Ford ushered in the start of New York Fashion Week with a private catwalk show of his debut 'See Now, Buy Now,' Autumn/Winter 2016 collection at the Fours Seasons Restaurant. One of the first designers move away from the traditional fashion calendar together with Burberry, Ford's AW16 collections for men and women included a reinterpretation of the classic tweed suit by pairing them with leather jackets. Designs for women included retro 70s midi dresses paired with colourful fur jackets and fitted pencil skirts in different patterns, prints and fabrics.
Victoria Beckham's ode to 9/11
British designer Victoria Beckham opened her show on September 11 with a minute of silence in honour of the victims who list their lives during the World Trade Centre collaspe in 2001. This season was one of the first in which designers took time to acknowledge the event during their shows and presentations. Her new collection for SS17 breathed luxury and modernity, two key factors customers have come to expect from her designs. New this season was the inclusion of lingerie, prints inspired by floral wallpaper and looser silhouettes, highlighting the designer's ongoing development. Two of the most talked about items from her collection included a velvet crushed dress and a pleated skirt, both in a pale green shade Beckham called 'Peppermint' green.
DKNY under the rule of new owners G-III Apparel Group
DKNY revealed its first collection since it was sold by its former owner LVMH to G-III Apparel Group earlier this year. Co-creative directors, Public School's Maxwell Osborne and Dao-Yi Chow set a supermodel army down the catwalk in deep v-sweatshirts, open jackets paired with bralettes or figure hugging bodysuits and knee-high socks, giving the diffusion brand a sportive, yet sexy overhaul.
Alexander Wang x Adidas Originals
Alexander Wang managed to take the industry by surprise at the end of his NYFW show with news of his latest capsule collection in collaboration with German sportswear brand adidas. He sent close to 70 models down the catwalk following his SS17 show, showcasing the uni-sex collection. It must not have been easy for the US designer or adidas to keep news of the collection under wraps for so long, but considering how well adidas collaborative collections have been doing, especially among millennials, signals a savvy business step from Wang - who is a self proclaimed sneakerhead.
Tommy Hilfiger sets up 'Tommy Pier'
Tommy Hilfiger was another US designer to embrace the 'See Now, Buy Now' business model. However the iconic designer took things one step further than the rest by presenting his labels AW16 collection, as well as the label's collaborative collection with It-model Gigi Hadid in the most spectacular way. Hilfiger transformed South Street Seaport into a Tommy Hilfiger funfair, complete with carnival attractions and rides, food stalls and shops open to the public, for the brand's NYFW show. Half of the tickets for the catwalk show were sold to consumers, the rest were reserved for the usually fashion week attendees. The approach to Tommy Hilfiger's show did raise a number of question concerning the commericalibilty of NYFW.
Ralph Lauren transforms Madison Avenue
While some wonder if Ralph Lauren has lost some of its luxurious allure following it's new business plan, the US designer was busy working on his latest collection which happened to be for Autumn/Winter 2016. Ralph Lauren transformed part of Madison Avenue, where its New York City flagship store is located to host its debut 'See Now, Buy Now' collection show. Ralph Lauren presented 45 new looks to a mixed audience of press, buyers and loyal customers, which influences ranged from Western cowgirl to Native Americans. During the show finale, Ralph Lauren bright evening wear stood out from the rest.
Jonathan Saunders for Diane von Furstenberg
Jonathan Saunders presented his debut collection for Diane von Furstenberg during a static presentation at New York Fashion Week, as the 40 year old Scottish designer was previously appointed chief creative officer this May. Saunders signature design imprint was evident throughout the collection - seen in the patchwork floral-print and striped dressed. However the designer also paid homage to the brand's roots by returning to the key item which lifted the brand to the spotlight, namely the wrap dress.
Photos: NYFW, Catwalkingpicutres.com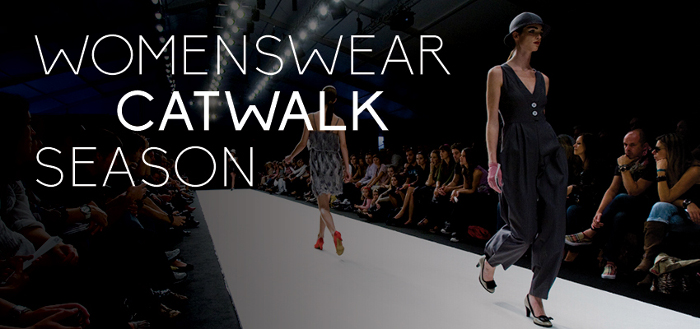 The international Fashion Week season for women's ready-to-wear kicks off in the month of September, with all eyes set on New York, Paris, London and Milan for next seasons latest trends. For all the women's wear catwalk season must reads, click
here
.