Berlin Fashion Week

28. Juni -

1. July

2016
What is Berlin Fashion Week?
A t the time of Berlin Fashion Week, numerous other fashion fairs and the catwalk shows of Mercedes­Benz Fashion Week take place twice a year. At the catwalk shows, mainly designers from Berlin and well­known German brands like Marc Cain and Laurèl showcase their new collections but also a few international labels. Premium and Panorama have established themselves as most important fairs and focus mainly on womenswear. However, two other fairs, Seek and Bright, focus mainly on menswear and sportswear. "Grüne Mode" together with Green Showroom and Ethical Fashion Show represent another key area. Other showrooms and smaller fairs complement the trade fair portfolio.
Where does Berlin Fashion Week take place?
"The central location of Mercedes-Benz Fashion Week is the fair tent with the long catwalk. In previous seasons, it was located directly in front of the Brandenburg Gate. The so-called "Stage" at gallery Me Collectors Room where smaller fashion shows and presentations take place has established itself as a second official location. However, many designers traditionally prefer to select individual, often particularly atmospheric settings for their shows all over town. Very popular was "Kronprinzenpalais" (the Crown Prince's Palace) last year. Simultaneously, Der Berliner Mode Salon takes place there, a showroom for sophisticated German labels. The Premium fair uses the halls of "Station", a former postal goods railway station close to Potsdamer Platz; Panorama takes place at the exhibition centre at Funkturm Berlin, the former broadcasting tower in Charlottenburg. The event venue Arena in Treptow with the two fairs Seek and Bright has established itself in the last year as another Fashion Week hub. During Fashion Week, shuttle services are available between all important locations."
When does Berlin Fashion Week take place?
Berlin Fashion Week takes place twice every year, in January and at the beginning of July. Its oldest institution is the Premium fair, which had its debut already in 2003. Since 2007, the catwalk shows take place as part of Mercedes-Benz Fashion Week and in 2013, the Panorama trade fair was founded, where primarily, popular mid-range brands showcase their latest collections. In the summer of 2015, the menswear and sportswear segments got a boost when trade fairs Seek and Bright took place jointly for the first time at Arena. The specialised fair for denim and accessories labels, Selvedge Run, focuses on craftsmanship and also premiered in 2015. For a long time, Bread & Butter was also part of the fair's attractions. The once most important fair for jeans and streetwear took place for the last time in July 2015 at former airport Tempelhof. After the trade fair company went bancrupt, German fashion e-tailer Zalando took over the fair. It is now planning a new edition of the fair in September 2016 at Treptower Arena with a completely revised concept.
Address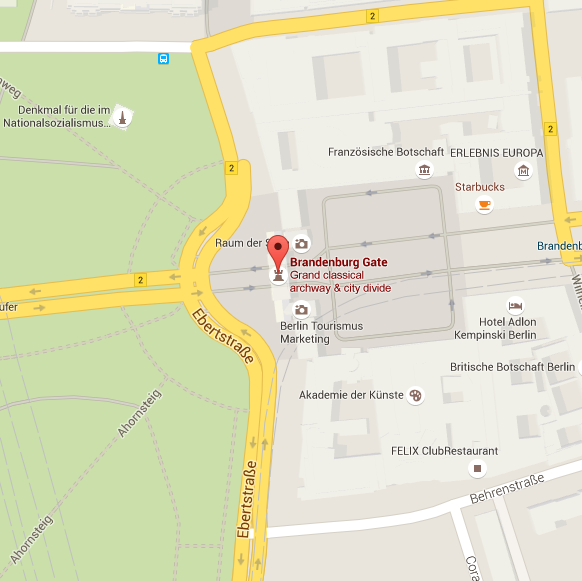 Brandenburg Gate, Pariser Platz, 10117 Berlin
Germany
Website
Berlin Fashion Week related news